Prolight + Sound 2019 – this year, HORTUS AUDIO launched its new line array: LVT 128: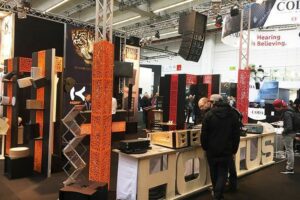 With horizontal directivity 100°, 3-way integrated amplification, and built-in DSP, the LVT 128 features a powerful 1550-watt bass complemented by 800-watt medium loudspeakers and a 200-watt treble. This novel line array consists of a phase correlating system that can effectively increase the cut-off frequency limit of the medium loudspeakers and significantly improve all speech frequencies. LVT 128 frequency range of 60/18KHz (+/-3 dB) and nominal level of 135dB flow from the bass section's 6th order bandpass enclosure as well as from its 1300-watt AES 12-inch loudspeaker. While the 700-watt medium section has a bass reflex of 2 x 8 inches regulated by top notch phasing signal controllers, the 120-watt treble section is powered by a 1.5-inch dual compression driver.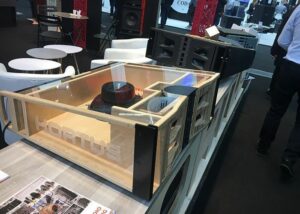 Visitors at this year's Prolight + Sound expressed great curiosity and admiration for HORTUS Audio's new line array, including their distributors from around the world who joined them at the stand. The LVT 128 was prominently on display alongside other top of the line products such as their newly released CX series, which features 2-way bass reflex cabinets that are both coaxial actives and passives.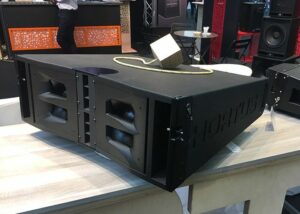 During each of the 4 days, many spectators thoroughly enjoyed listening to demos of HORTUS Audio's satellite speakers from its MIRAGE series. They also particularly enjoyed tuning into their 3-way full range hybrid sound system from the CHRYSALIS series.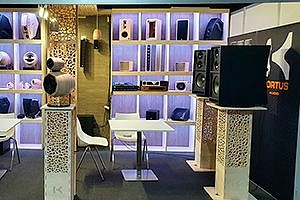 HORTUS Audio's LVT 128 follows a pioneering tradition of product development at our company facilities in Montpellier, France. From concept and design to end-to-end manufacturing, they create all of our own product lines. They also enable their customers to integrate additional cutting-edge features such as their receivers, transmitters, modules, adjustable wall brackets, telescopic supports, wall mounts, trolleys and flight cases.
The company meets the acoustic needs of a professional clientele by supplying loudspeaker systems to educational facilities, theatres, stadiums, government buildings, shopping malls, hotels, restaurants, museums, lounges, clubs, congress centres, live shows (concerts), and religious ceremonies. As a manufacturer, we export a comprehensive range of over 150 audio products across 5 continents. They partner with HORTUS Audio distributors in 16 national markets to deliver our reliable high-quality craftsmanship. HORTUS Audio's R&D policies are anchored in innovation backed by rigorous scientific research. All the product lines aim at assuring maximum accuracy of sound, acoustic reproduction and reliability.
The R&D department is led by highly qualified technicians and acoustic engineers who follow market trends yet they put into practice new methodologies. For example, over the past few years they have made flat speakers that allow air to circulate inside and out to ensure clear and concise acoustics for the high-end innovative global marketplace.
Unlike many of its competitors, HORTUS Audio continues to build and assemble its own sound systems with high calibre electronic components and raw materials sourced locally/regionally. From carefully studying the acoustics to rigorously testing the output in different venues, their audio products stand out for their ingenuity and performance.
HORTUS Audio remains committed to delivering the highest quality sound requirements for the customers and theirs worldwide.
"ISP Audio & Light"